Source: Sustainable Business Oregon
Author: Mason Walker, New Media Manager
After a year of efforts to reduce commercial energy use, the winners of the Kilowatt Crackdown contest have been named.
The competition, organized by Northwest Energy Efficiency Alliance (NEEA), pitted 64 office buildings against each other in a year-long contest to reduce energy use through a variety of efficiency measures.
View photo gallery (8 photos)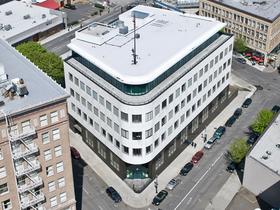 NEEA
The Reserve, managed by Harsch Investment Properties, took first place in the most improved building category in the 2013 Kilowatt Crackdown contest. Click through the gallery above for a look at more of the winners.
Kilowatt Crackdown: Meet some of the winners of the 2013 contest
The participants in the contest account for 20 percent of all Oregon office building square footage for spaces with more than 50,000 square feet.
NEEA teamed up with the city of Portland's Bureau of Planning and Sustainability and the Building Owners and Managers Association (BOMA) Oregon to put on the contest.
BOMA's executive director Susan Steward spoke to the scope of the program following the announcement of the winners.
"Bringing the public and private sectors together in this effort, with the largest amount of office floor space participating, maximizes our reach in bringing energy-efficient resources to the greater Portland metropolitan area," said Steward.
The winners are:
Highest-Performing Building (Inaugural Year Participants)
First place – Bonneville Power Administration Headquarters, managed by the Bonneville Power Administration
Second place – Multnomah Building, managed by Multnomah County, Oregon
Third place (tie) – Forum Building, managed by Oregon Pacific Properties
Third place (tie) – World Trade Center Portland, managed by World Trade Center Properties/Portland General Electric
Highest-Performing Building (Multiple-Year Participants)
First place – Congress Center, managed by Shorenstein
Second place – Liberty Centre, managed by Langley Investment Properties
Third place – Oregon Square 729, managed by American Assets Trust
Most Improved Building (Inaugural Year Participants)
First place – The Reserve, managed by Harsch
Second place – McGillivray Place, managed by Melvin Mark Co.
Third place – 1000 Broadway, managed by 1000 Inc.
Most Improved Building (Multiple-Year Participants)
First place – The Portland Building, managed by City of Portland
Second place – Pacwest Center, managed by Langley Investment Properties
Third place – Portland City Hall, managed by City of Portland
Jury Awards
Most Aggressive – OHSU Center for Health and Healing, managed by CBRE
Energy Efficiency Champion – Ty Barker, General Manager, Unico Properties LLC